The 2023 Cricket World Cup is set to kick off in India on October 5th. Are you ready to use cricket world cup betting techniques to earn some rewards? This article will guide you on how to approach the 2023 Cricket World Cup, allowing you to engage in betting while enjoying the matches. Let's take a look together!
Introduction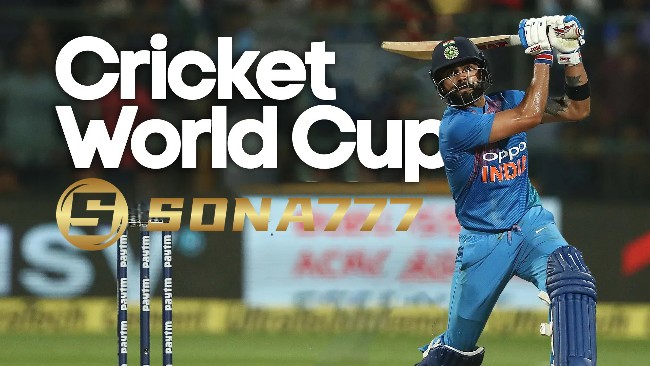 The anticipation for the 2023 Cricket World Cup is reaching fever pitch as cricket enthusiasts around the world gear up to witness the clash of titans on the cricketing stage. This thrilling event not only offers a chance to indulge in the excitement of the sport but also presents an opportunity to employ strategic betting techniques to potentially reap rewards. In this article, we'll delve into effective strategies that can guide you through the betting process, ensuring a thrilling and potentially profitable experience.
2023 Cricket World Cup Betting Tips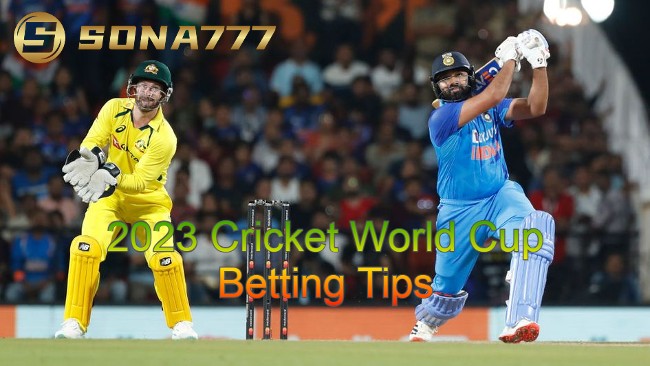 Research and Analysis: The Foundation of Success
As with any form of sports betting, knowledge is key. Before placing any bets, take the time to thoroughly research and analyze teams, players, conditions, and historical performance. Study each team's recent form, player injuries, head-to-head statistics, and their track record in similar conditions. This comprehensive understanding will allow you to make informed predictions and identify potential upsets.
Understanding Pitch and Conditions
The pitch and playing conditions can have a significant impact on the outcome of a cricket match. India's diverse climate and pitch conditions can vary greatly from one venue to another. Some pitches might favor spinners, while others might provide assistance to fast bowlers. Analyzing these factors and how they align with a team's strengths and weaknesses can provide valuable insights for your betting decisions.
Team Compositions and Player Performance
A team's composition and the form of individual players play a crucial role in determining the outcome of a cricket match. Monitor the performance of key players leading up to the tournament and during the tournament itself. Look for players who have consistently performed well under pressure, both with the bat and the ball. Additionally, keep an eye on any last-minute changes to the playing XI, as these can impact a team's overall performance.
Tournament Dynamics and Momentum
The Cricket World Cup is a long tournament, and momentum can shift dramatically from match to match. A team that starts slow might gain momentum as the tournament progresses, while a strong team could face unexpected challenges. Understanding the ebb and flow of the tournament can help you make strategic bets on underdogs and favorites at the right time.
Market Analysis and Odds Comparison
Different betting platforms offer varying odds for the same outcome. Shopping around for the best odds can make a significant difference in your potential returns. Moreover, keep an eye on live betting markets during matches, as odds can fluctuate based on match developments. Quick and informed decisions during live betting can lead to profitable opportunities.
Bankroll Management and Responsible Betting
While the excitement of betting on cricket matches is undeniable, it's essential to practice responsible betting. Set a budget for your bets and avoid chasing losses. Remember that betting is a form of entertainment, and it's crucial to gamble only with what you can afford to lose. Discipline in managing your bankroll can help you enjoy the experience without facing financial strain.
Cricket World Cup Betting Rules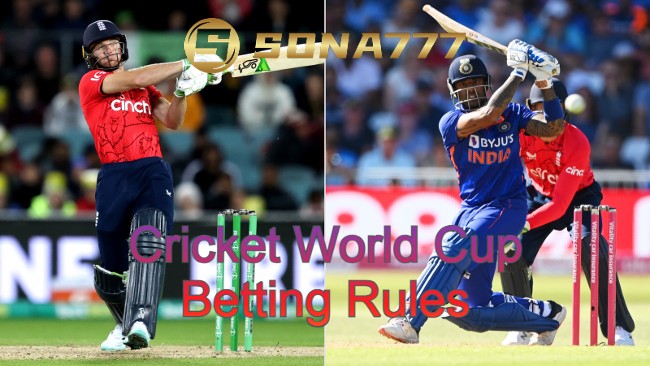 Championship Betting
All betting companies will offer odds for the outright winner of the upcoming Cricket World Cup. These markets will undergo significant changes throughout the tournament based on teams' early performances.
Match Betting
During the Cricket World Cup, match betting is the simplest type of bet where bettors can decide which team will win the match. It's as simple as that!
Top Team Runscorer
One of the biggest markets available on the Cricket World Cup and any cricket match for that matter is the top runscorer markets. These will be broken down by team. For example, if Australia is playing against India, there will be a Top Australia Runscorer market and Top India Runscorer.
If the player you selected is the highest runs scorer for their side, you will be paid out as a winner.
Top Team Wicket Taker
Bowlers aren't missed by bookmakers either with markets available on which bowler will take the most wickets for a team. Compared to top runscorer markets, there is a far greater likelihood of a tied result between two or more bowlers for this market.In the event of two players taking three wickets apiece as an example, dead heat rules apply and bets will be paid out at half odds for both players; if you backed a player at ₹50 and they were tied, you would receive a $25 return.
Matches are not Played as Listed
If a match venue is changed then bets already placed will stand providing the home team is still designated as such. If the home and away team for a listed match are reversed then bets placed based on the original listing will be void.
Batsman Matches
Note that in test and county championship matches only the first innings counts. Bets are only valid if both players reach the crease. In the case of a tie, all wagers are invalid.
Batsman Match Runs
The following minimum number of overs must be scheduled, and there must be an official result (Duckworth-Lewis counts) otherwise all bets are void, unless settlement of bets is already determined.
Twenty20 matches consist of 20 overs per team.
One-day matches consist of at least 40 overs for each team.
In Test and County Championship matches, the entire match is considered. In drawn matches, a minimum of 200 overs must be bowled.
Where to Engage in 2023 Cricket World Cup Betting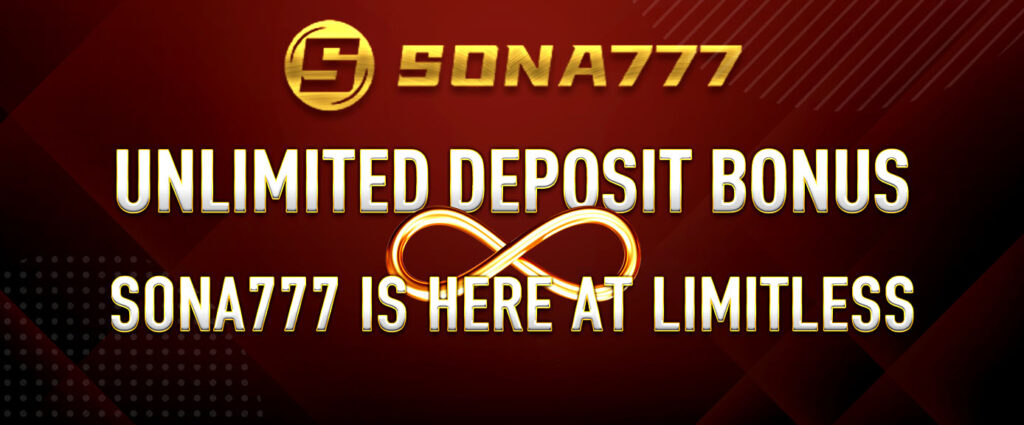 Having ranked our recommendations based on the following criteria, we are confident that our favored sites are the best in the business.
Safety and security
High 2023 Cricket World Cup odds
Lots of 2023 Cricket World Cup markets
Sign-up bonuses and ongoing promotions
Multiple banking options with fast payouts
Mobile and in-play betting opportunities
First-rate customer support
SONA777 is one of the leading bookmakers for cricket betting, including the Cricket World Cup. Visit SONA777, navigate to the sports section, and click on cricket. There, you can explore the full range of cricket markets available for all formats, such as T20, ODIs, and Cricket World Cup betting.
Conclusion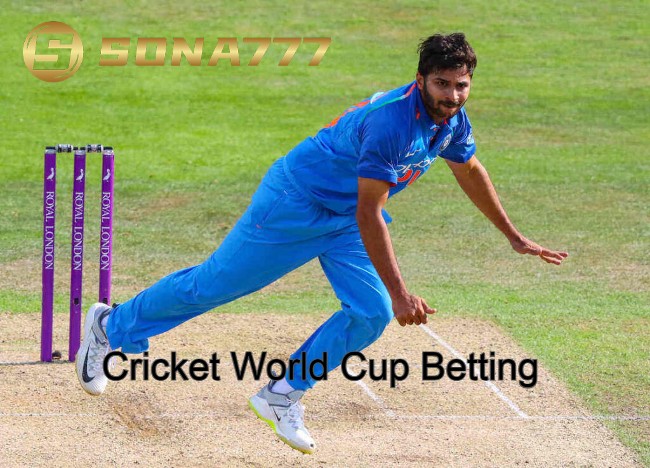 As the cricketing world converges in India for the 2023 Cricket World Cup, the excitement is not limited to the players on the field. By implementing the strategies outlined in this article – thorough research, understanding pitch conditions, analyzing team compositions, tracking tournament dynamics, comparing odds, and practicing responsible bankroll management – you can enhance your World Cup experience through strategic betting. Remember that while rewards can be reaped, betting is inherently unpredictable, and outcomes can vary. Stay informed, disciplined, and above all, enjoy the exhilarating journey that the Cricket World Cup promises!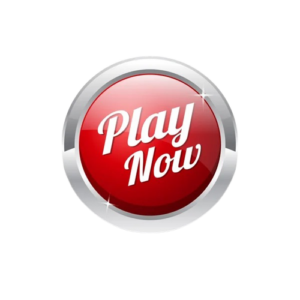 Further reading